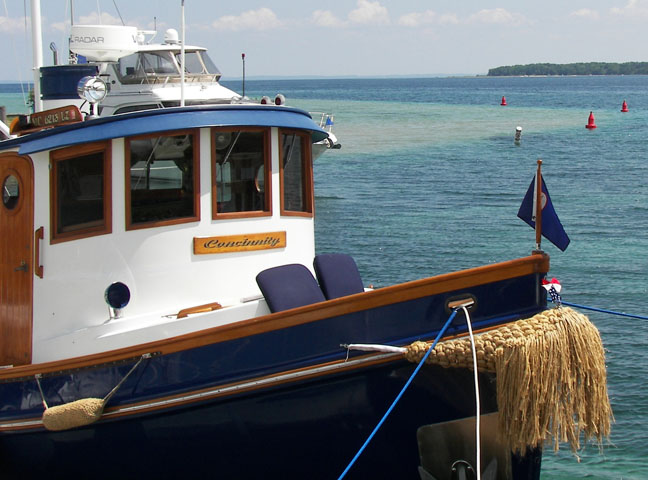 Rope bow fenders are special to the captain/owner, unique and personal to his vessel. Sometimes I'm asked for recommendations...
For the bigger tugs - the Lord Nelsons and custom tugs come to my mind 50 to 60 feet in length. A pudding of 8" dia. X 5' or 6' in length makes for a good show.
For the Nordic tugs, I've tied many fluffy collision mats to lay over the factory-installed stencil at the bow.
The Crosby tug with its upswept bow begs for a fluffy 5' X 4' or 5' X 5' manila rope collision mat.
Ranger 27s, a perfect vessel for both a pudding 6" dia. X 5' in length with a collision mat over the top - any size is great - all the way to the water, or a little "mustache"... just so long as it's fluffy and thick.
Last but not least - the micro and mini tugs by Berkeley Engineering. A pudding of 5" dia. X 6' on length (the bows on Berkeley tugs are both proud and bulbous) along with a smallish collision mat... or big one - I've tied all sizes for these adorable stalwart miniature tugs.
The most popular material for tug boat fenders are manila rope, however, I've tied rope fenders in white polyester. Never in nylon, because as it ages it turns an ugly yellow.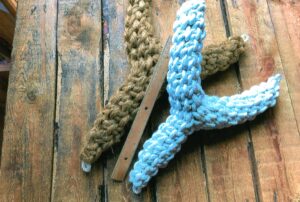 These three legged bow fenders are a new addition to my product line. They offer flexible but solid protection against scrapes and bumps to the bow of your vessel, and will keep your bow from doing mischief to someone else's hull. Available in 6" and 12" legs and in custom sizes.
Tri-sided Bow Fender 8" $93.00  IN STOCK
Tri-sided Bow Fender 12" $112.00  IN STOCK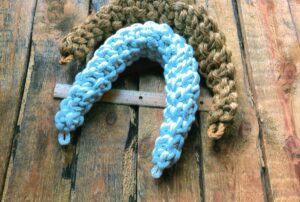 A brown manila pudding - nice addition to your work boat.

A white polyester pudding. Perfect for dressing up your skiff.
White Polyester Pudding 3"  x 18" $83.00 -  BEST SELLER - IN STOCK
Brown Mania Pudding 3" x 22"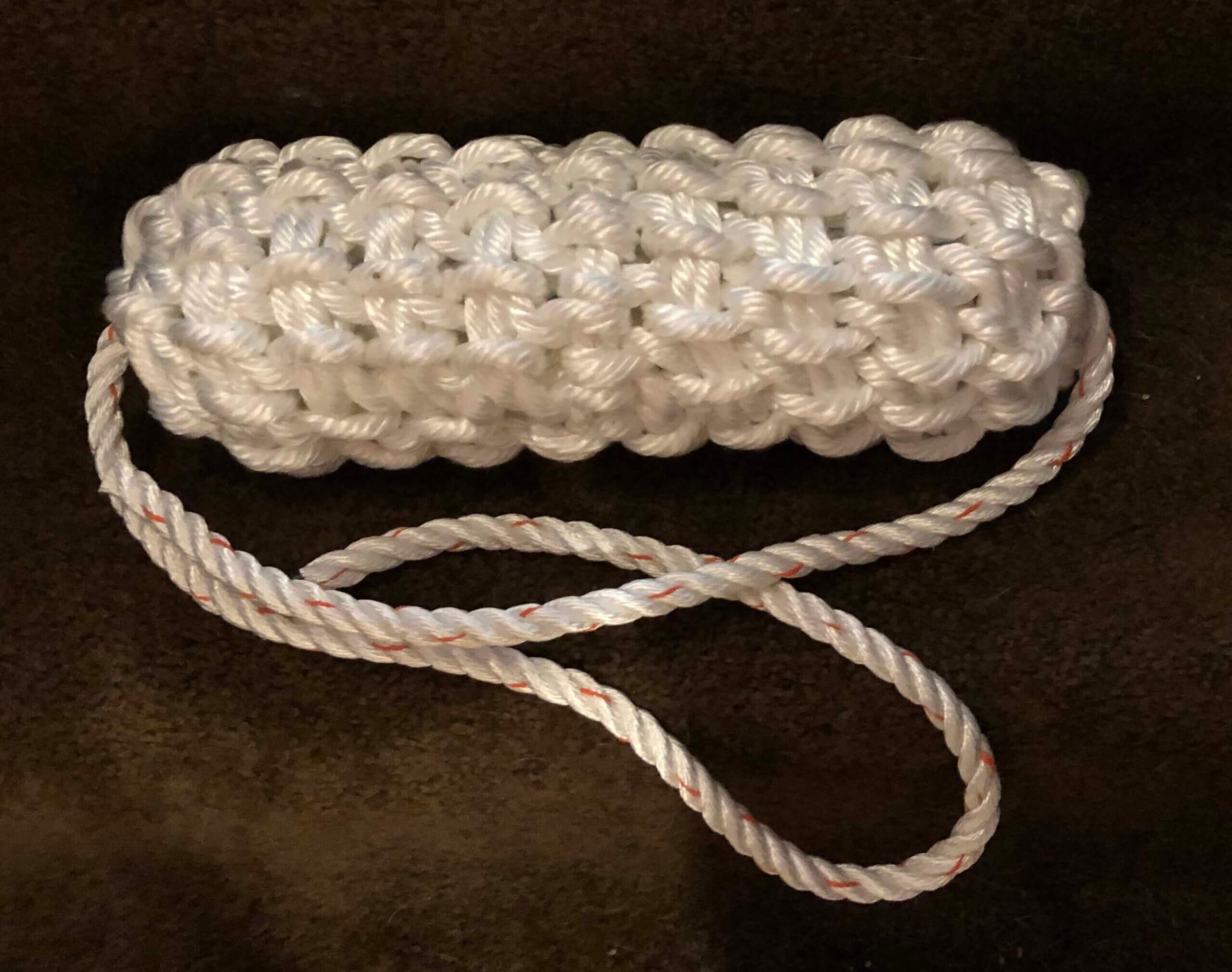 White Side Horizontal Fender/Dolphin
A side fender made from polyester. Also called a dolphin.
Size: 5" x 18"  $67.00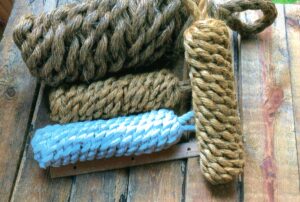 These useful fenders are hung from the side of a boat to protect against scuffs and scrapes when coming alongside a dock or another vessel. Made only from the finest #1 grade manila, they are available in a range of sizes.
2 1/2" X 10"  $28.00
2 1/2" X 15"  $34.00
4" X 12"  $38.00
4" X 24"  $62.00
5" X 16"  $64.00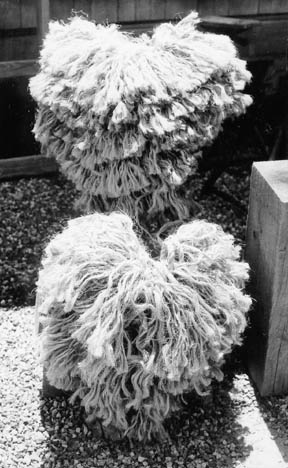 Fluffy Manila Bow Mats (Collision Mats)
These large bow fenders are bushy golden mats that offer real protection and industrial strength durability for larger vessels. Available in three standard sizes and custom sizes.
Custom sizes priced by the square foot at $48.00 / S. F.
Our stock prices and sizes are as follows:
24" X 18"  $96.00
24" X 24"  $132.00
36" X 24"  $240.00
48" X 30"  $310.00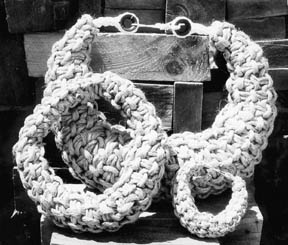 Manila Bow Fenders (Pudding)
This is another type of bow fender, sometimes called a bow pudding. Made of white synthetic (not polypropelene) or manila rope, they are among my favorite fittings and are flexible enough to conform to the sharpest bow. The fenders pictured here range from 2" x 20" to 10" x 72".
3" X 22"   $68.00
4" X 12'    $46.00
4" x 24"    $81.00
5" X 36"   $102.00
5" X 48"   $117.00
8" X 48"   $158.00
8" X 60"   $240.00
10" X 72"  $440.00
12" X 72"  $525.00
10" X 96" $625.00

Turks Heads are optional, per quote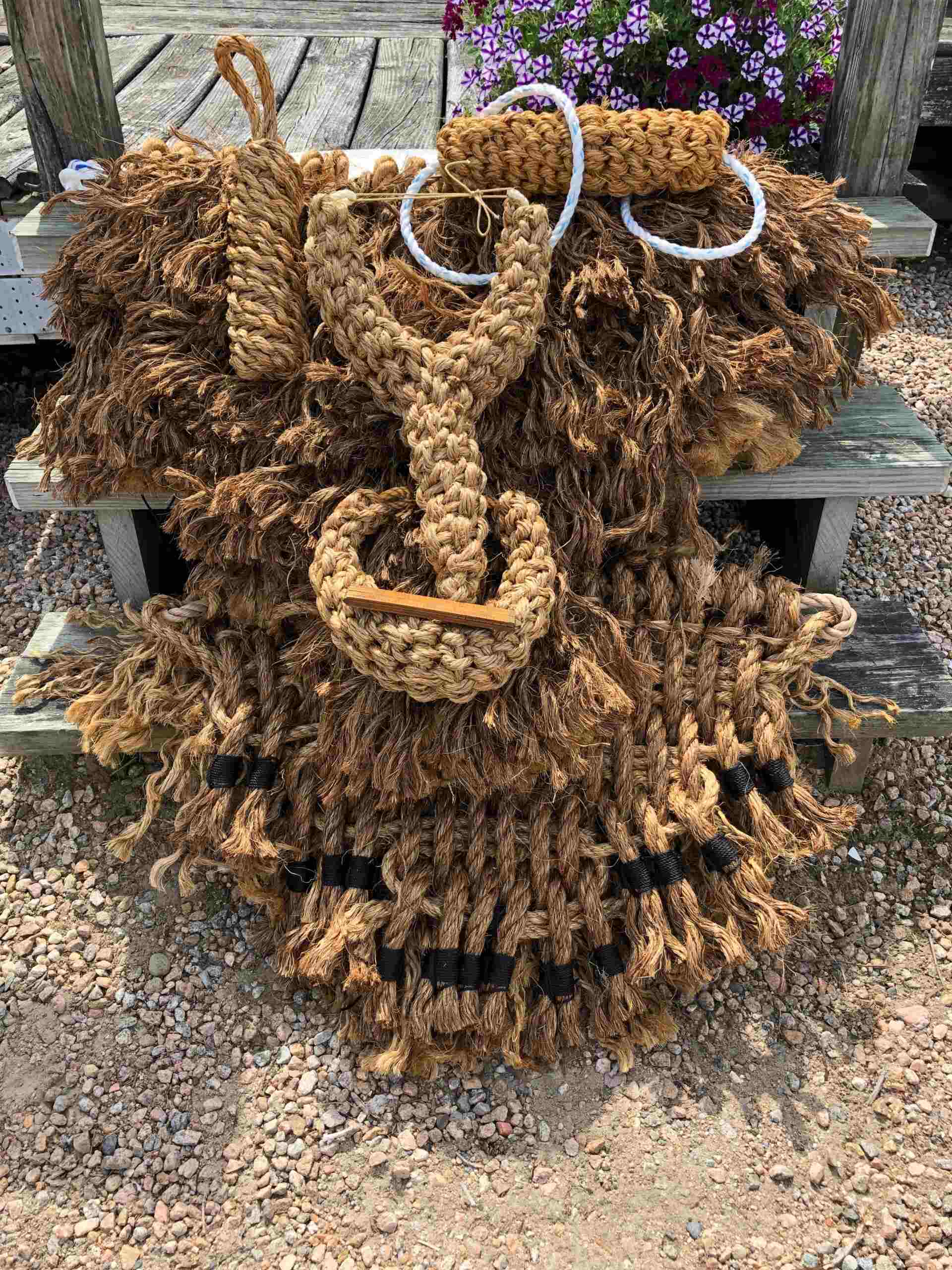 Collection of Manila Fenders
This is a collection of manila fenders. One of the fenders is turned to show the thick foundation mat on the back.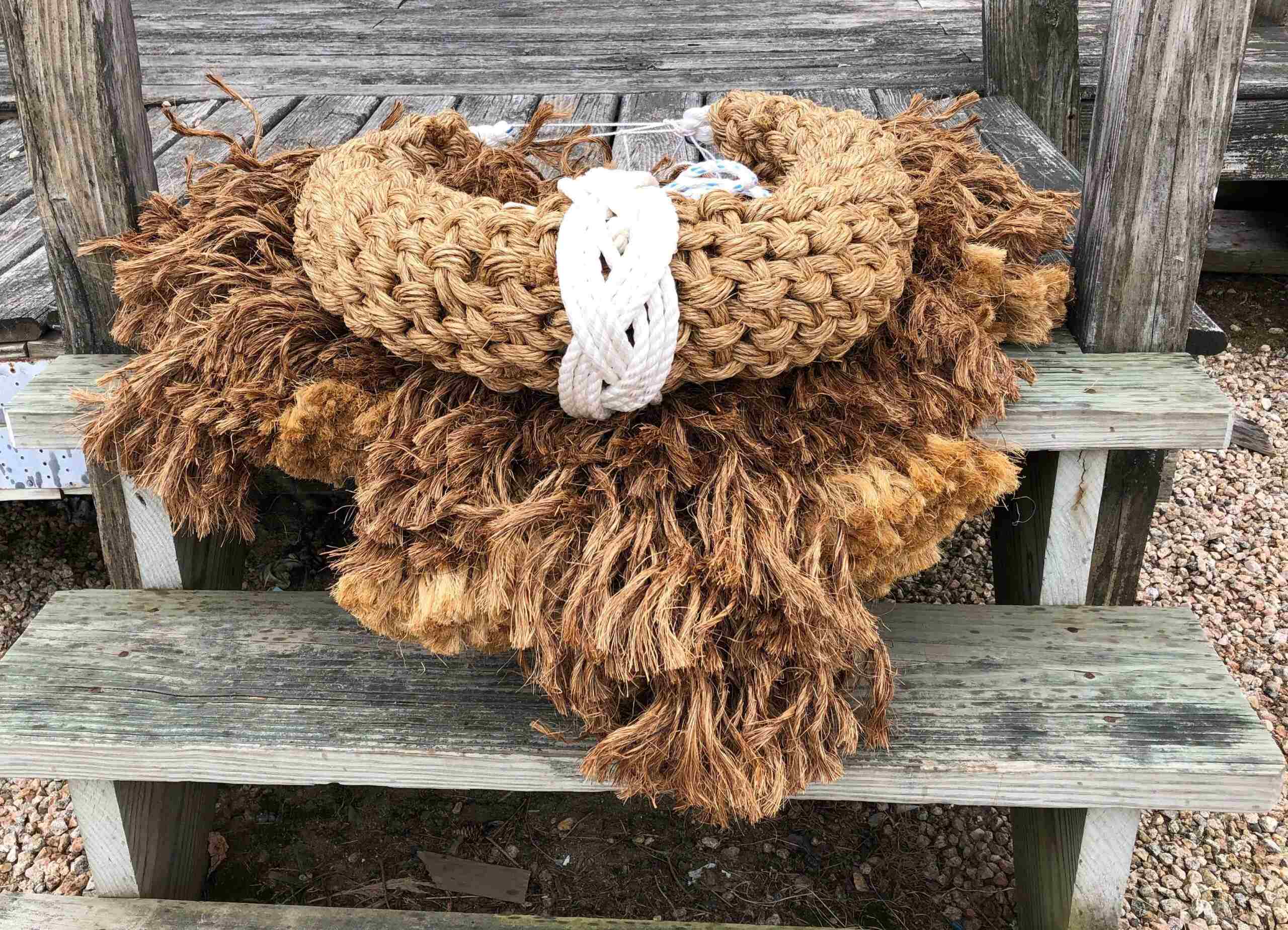 Pictured here is a 5" x 48" manila bow fender with a 3 strand turks head. Poking out of the turks head is a small eye to assist in installation.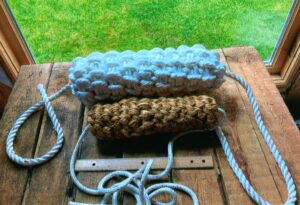 Horizontal Side Fenders

"Dolphins"
5 x 14"   $58.00
3 x 10"     32.00
Available in Custom Sizes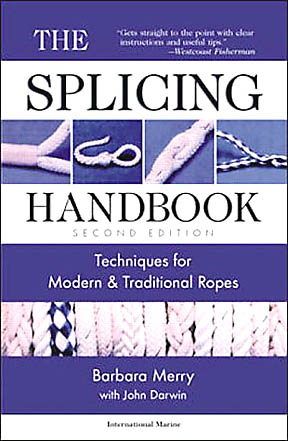 The only book devoted completely to splicing today's ropes, this fully illustrated, step-by-step guide has been expanded and enhanced in this new edition and now covers wire splices, and splices in Spectra and Kevlar ropes as well as Dacron braid and traditional three-strand. The Splicing Handbook includes every splice project a boater will ever need.
Third edition $20.00
If You Like Any of Our Products . . .